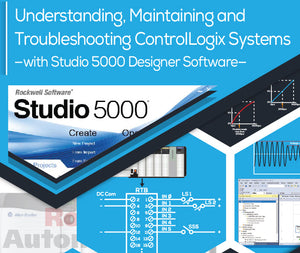 Troubleshooting Control Logix System Online Training
Regular price $1,290.00 Sale
Specially designed for Maintenance Personnel responsible for maintaining and troubleshooting a ControlLogix system in your plant.
Whether you're trying to...
minimize risk • increase safety • promote human capital • train new employees • improve collaborative troubleshooting  • or simply optimize your workflow
 ... this program is the solution to your ControlLogix maintenance needs! 
Complete Training
With content designed for maintenance personnel to better understand and troubleshoot a ControlLogix systems, this full and complete comprehensive training series includes..
Over 17,000 graphics, high-definition Studio 5000 software visuals and multi-media.
A downloadable handbook for each module—over 1000 combined pages. 
Over 1,000 total Review and Final Exam Questions with ARM(TM) (Automatic Reinforcement Mode).
 Practical and Real Life 
All examples, questions and how-to-do presentations relate to real life troubleshooting situations. What to do and what not to do, and how to prevent problems while maintaining safety first.